If you build it, they will come… at least, that's the plan!
Amidst great controversy and consternation, the Kimball Art Center, Park City's historic community art center, moves out of its Main Street building and into a temporary space while it makes plans for a BIG building.
A BIG Ordeal
"If you build it, they will come." It worked for Kevin Costner's character in the classic 1989 film Field of Dreams; and the Kimball Art Center is holding to the same belief. In a bold move, the Kimball sold its piece of prime real estate on Main Street to a commercial developer following a five-plus-year struggle to get its plans to renovate and add on to the historic building approved by the Park City Planning Commission. Apparently, the planning commission didn't care much about the fact that Bjarkle Ingels Group, a.k.a. BIG, a.k.a. one of the biggest deals in the world of architecture, was behind the building's competition-winning design, as well as its second proposal — a much more subdued design. Nor were they paying much attention to Aspen, and the impact of the newly transformed Aspen Art Museum. Needless to say, it was an enormous miss by the Planning Commission, insomuch that Architecture News ranked the defeat of BIG's design proposals as second among the "Worst of Architectural Events in 2014."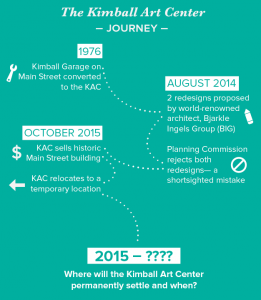 What's done is done. The Kimball has moved on to a new place, literally and metaphorically. This new place at 1401 Kearns Boulevard is a temporary space — a former church to be more precise — and a mortuary before that. While this may seem like an odd venue for an art center; for the Kimball, it's not. The Kimball has a history of showcasing art in untraditional spaces. The site of its former home on Main Street was first a livery stable, followed by a motor garage and filling station once cars outnumbered horses on Park City's main drag. In the mid-seventies, Bill Kimball envisioned Park City becoming a major destination for both skiing and art. Along with members of the community, he determined that the vacant Kimball Garage (the same name, but not the same family, coincidentally) would be the perfect place — "The Place!" — to open a non-profit community art center. Flash forward almost forty years, and that place is now slated to become high-end condominiums.
The idea of place comes into play here. The Kimball is a place where art enthusiasts of all ages gather to engage in art experiences, whether it is seeing an exhibition, hearing an Art Talk, or taking a class. Yet places are not always permanent, fixed addresses. For that reason, there is a distinction between the Kimball itself and its former shell on Main Street. The Kimball is not that building. And that is precisely what the Kimball is banking on with its ballsy move off of Main Street.
Home is Where the Art is
On October 24th, the Kimball opened in its new — temporary — building with an impressive exhibition entitled Picturing the Iconic: Andy Warhol to Kara Walker. The transformation of the former church was a small miracle in and of itself. Large glass doors open into a white-washed and lofty space filled with 90 original works by some of the art world's major saints: Andy Warhol, Roy Lichtenstein, Robert Indiana, Keith Haring, Barbara Kruger, Chuck Close, and Jeff Koons, to name just a few. It is a vision of Pop Art heaven. An exhibition of this caliber is a testament of what the Kimball can, and intends to, do going forward.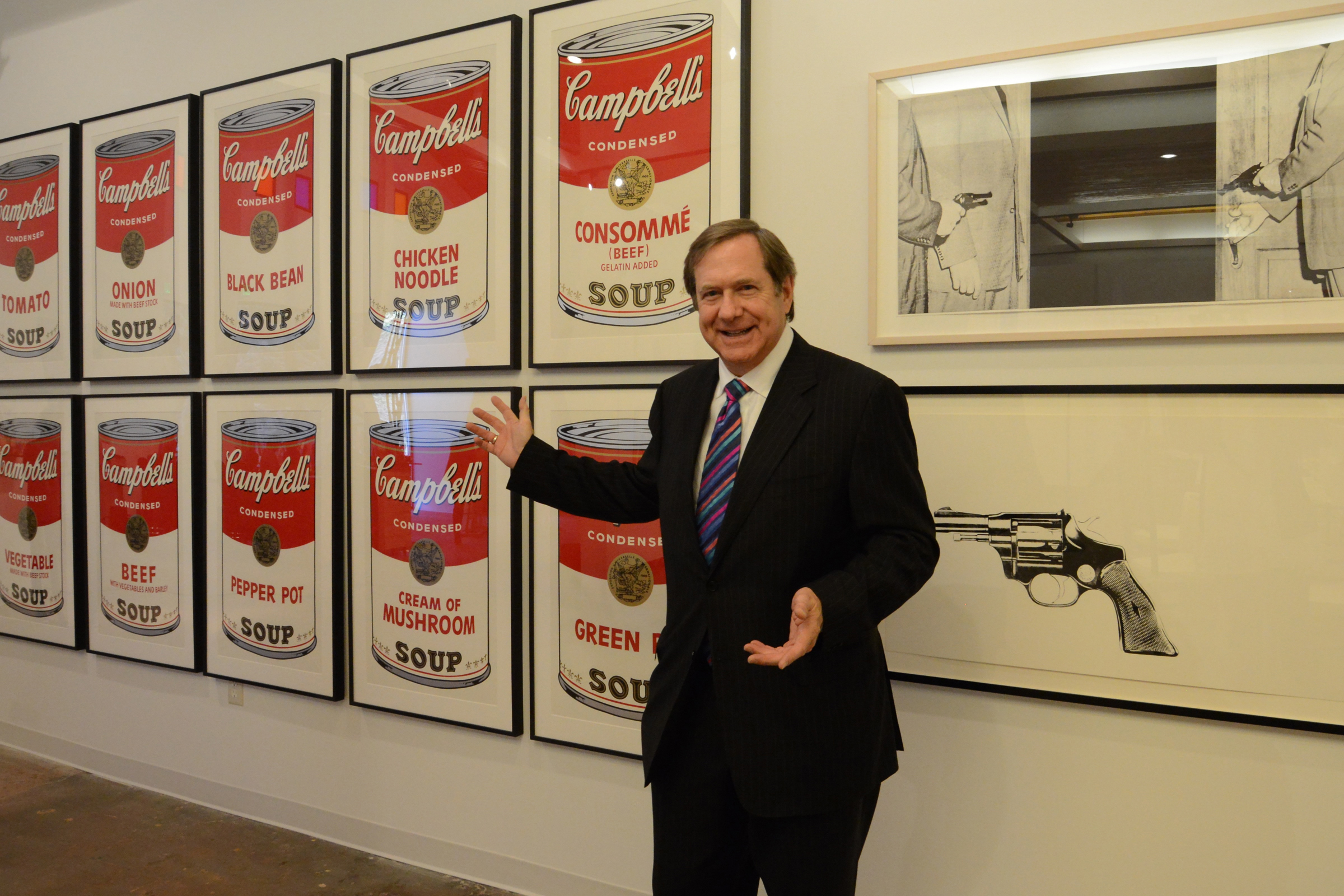 Beyond the exhibition space are staff offices and three classrooms filled with budding artists creating art, day and night, in a variety of mediums. In addition, Uptown Fare, a favorite local lunch spot, is setting up shop after also leaving their long-time location at the top of Main Street. Outside the building, a sculpture garden is beginning to emerge. There is a metal piece by Park City artist Zafod Beatlebrox constructed out of the repurposed parts of a weathered car, and interactive water sculptures by the Rainworks team from Seattle that explore water usage in Park City. Though not as exciting as the sculpture garden, the parking arrangement is worth mentioning! Two lots flank either side of the building, a major upgrade in both capacity and convenience.
Envisioning the Future
So far, the Kimball hasn't appeared to suffer from any setbacks in its transition from the building on Main Street to its current home on Kearns Boulevard. This is, hopefully, a promising sign of the organization's ability to remain, as its mission states, "the heart of Park City's historic and vibrant arts community," regardless of its street address. The question still remains, however: where will the Kimball ultimately go, and when? No announcements have been made as to land or building purchases. Word on the street is that the Kimball would like to be in its new building, designed by BIG (perhaps third time is the charm?), in the next three to five years.
The move away from Main Street is the first major step in a new direction for the Kimball. No longer limited by an old, crumbling structure and a shortsighted planning commission, the Kimball now has a substantial sum of money from the building's sale to boost its capital campaign fund. More importantly, it has the freedom to design a space with both the artistic form and high function that meets the needs of Park City's booming community. Perhaps that quote should be the other way around? The people are already coming; the Kimball just needs to build the building!