If we had to pinpoint the single question we are asked more often than any other, it would have to be: "what are the best hotels in Park City?"
Everyone wants to have an amazing vacation. Whether you've come to Park City for skiing, the Sundance Film Festival, mountain biking, or just a relaxing getaway from a hectic world, the decision of where to stay is one of the biggest hurdles in planning the perfect stay. That means everyone is always looking for the inside scoop.
Because of the vast and endless variety of goals, budgets, and tastes between the hundreds of thousands of travelers who visit our little corner of the world each year, no one hotel is "the best" for everyone. So, what are the best hotels in Park City? That depends on you.
Best Hotels Near Skiing
Staying on a snow-covered mountain is an experience both serene and exciting. We're not going to lie; it's a pretty awesome feature, and we recommend it. For a complete list of our favorite ski-in/ski-out hotels, be sure to visit our best ski-in/ski-out hotels page. But if price is a consideration, a look at the "near skiing" options will yield hefty savings. Staying near—but not on—the ski resorts hits the sweet spot for both value and proximity to the slopes.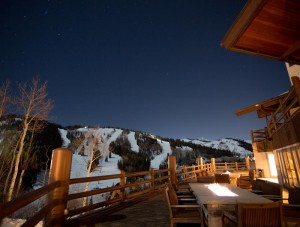 Silver Baron Lodge and the Lodges at Deer Valley are snuggled up against the Deer Valley base area, about 100 yards from ski access. You can barely get any closer, yet neither property is technically ski-in/ski-out. In terms of service, these two lodges offer all the premier service for which Deer Valley is known. The nearby Black Diamond Lodge, located on the ski hill, boasts the coveted ski-in/ski-out tag as well as top-notch amenities and service. By staying at the former options, you'll pay, on average, half the price of the latter.
 If you have your eye on the Park City Base Area, you could stay on the mountain, or you could make your way across the parking lot and save a bundle staying at Shadow Ridge Resort Hotel instead. Over at Canyons Village, the Silverado Lodge will cost you a fraction of a stay at the Grand Summit Hotel, but sits right across the street, and is literally closer to the mountain than most day-skiers can park. For traveling families, convenience increases as distance to the mountain decreases, but it comes with a price tag.
Check out our downtown Park City hotels page for tips on lodging near the Park City Mountain base area, or our Deer Valley hotels page, or our Canyons Village Hotels page. Each offers advice on lodging near skiing, along with insider tips on things to do in each area.
Best "Money is no Object" Hotels
Budgeting concerns aren't for everyone, and Park City is home to several of the finest accommodations in the world. For incredible luxury, every conceivable amenity, and service that will bend over backward far enough it could moonlight in a Cirque du Soleil show, Stein Eriksen Lodge was recently awarded the title of World's Best Ski Hotel. A trip to Stein Eriksen is a voyage of leisure and luxury worthy of song, and comes with only the highest praise.
Stein Eriksen isn't the only big name in Park City luxury, though. Montage Deer Valley is a favored contender for "best hotel ever" according to a not-insignificant number of people here in the office. With ski-in/ski-out access, a bowling alley, live music, delicious restaurants, and impeccable service, the Montage literally has it all.
The Waldorf Astoria, a well-established name in luxury lodging, has an incredible hotel near the Canyons Village base. Visit the intimate lobby and courtyard and you'll forget the outside world exists. Powder, the on-site restaurant, is one of our favorites for farm-to-table fare. Whether you stay at the Waldorf Astoria or not, you should consider a visit for the culinary experience at Powder.
And, for a centrally located luxury hotel, don't overlook Hotel Park City, a part of the Marriott Autograph Collection with a great old-school vibe. Fine, dark woodwork and finishes, stone fireplaces, and cozy leather sofas offer a sense of warmth and hominess rarely found in a hotel. It's located right on the Park City Municipal Golf Course, which is, of course, great for summer golfing. During the winter, however, the course transforms into a cross-country ski track.
Park City visitors are spoiled for choice when it comes to top-of-the-line luxury accommodations. While these represent a couple of our top suggestions, they are hardly the only options. If you want to go all out on your vacation, these 10 Park City luxury hotels stand ready to oblige you.
Best Hotels Near Main
Park City isn't only about skiing. There are plenty of other things to do and see in Park City and many of these attractions live on our Historic Main Street. Staying right where the action is, especially for events like the Sundance Film Festival, can greatly enhance your visit. Getting around-the-clock access to food, fun, and shopping really helps when you are trying to squeeze the most out of your vacation days. For a complete an updated list of our favorite Main Street properties, be sure to visit our best hotels on Main Street page.
Main & SKY features the finest in contemporary design and combines luxury, unbeatable location, and ski access to Park City's Town Lift. It's our top Main Street pick, especially for the health-minded individual. With the Sugati Spa on site, featuring a range of incredibly relaxing and healthful services, you never need to feel stressed or exhausted. Let go of your burdens in their Japanese Ofuro tubs or grab a little private yoga and meditation. It is, naturally, right downtown with access to everything the heart of Park City has to offer, including a ski lift on the same block.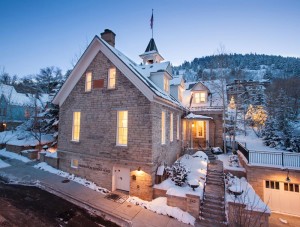 If you prefer a little history to your accommodations, the Washington School House was built in 1889 from local limestone, and is a truly one-of-a-kind experience. The history of this renovated school house absolutely radiates from the walls, and really helps to get you into the mood to explore Park City's historic roots, or at least its Historic Main Street shops and restaurants. History aside, this place is the most chic boutique in Park City. There isn't a more intimate luxury option, and this one is located just one block from Main Street.
While these two properties have particularly unique stories and missions, there are plenty of amazing Main Street accommodations available to enjoy. Try a new experience each time you visit by switching up your hotel.
Best Budget Hotels
Staying on Main Street isn't cheap. Hotels on/near Main have a crucial location advantage, and set their rates accordingly. But, if you really want to stay near Main on a budget, we suggest the very centrally located Yarrow Hotel, aka DoubleTree by Hilton – The Yarrow Hotel. A Park City landmark, the Yarrow sits on a major corner, and is a familiar staple of the downtown landscape. Don't be fooled by the crusty exterior—the interior has recently received a mega-makeover. The rooms are your standard hotel configuration, but everything inside is new and lovely. The price is competitive, and it's a very quick trip to skiing or Main Street.
The Park City Marriott lives in a quiet nook in a nearby Park City neighborhood. Like The Yarrow, this is a standard hotel, but with a better price tag due to its slightly removed location. There's a ski rental shop on-site and a Starbucks in the lobby, and it's only a mile from Main Street and the Park City Base Area. Expect fine bedding and modern furnishings.
To really save dollars, we recommend traveling about 20 minutes outside of Park City proper. The Zermatt Resort offers the absolute best quality for price point. The drive is worth the savings. The Zermatt is a monstrous hotel filled with restaurants, weekend activities, and a super fun gelato shop. Did we mention that it looks like a Swiss Village? This may sound a little cheesy; yet they pull it off well. No one is going to make you put on a dirndl or lederhosen, but nobody is going to stop you, either. This one is especially fun for the family.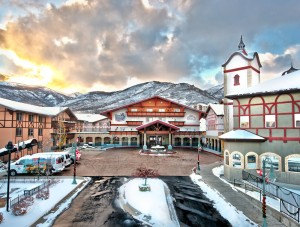 If traveling with a larger family or group, consider looking into condos, or condominium hotels. There are several options in the vicinity of Main Street, often right on the free city bus line and only five minutes from the heart of Park City. Try using the customized Stay Park City filters while searching for "Downtown" "Condominium" and "Condo-Hotel."
There's a caveat to be aware of when selecting a condo. Since most condominiums are individually owned, décor and appliances may vary. A newly remodeled piece of heaven and the 1980s special might sit side by side, and you can do very little to ensure you get the better option. Even on a budget, the "deluxe" option at a condo hotel is probably worth your money, as it guarantees a certain standard of quality for your stay.
It All Depends
While we've provided a few suggestions based on our experience, finding the best hotels in Park City is a matter of individual taste. Factors like price, proximity to skiing, access to Main Street, as well as more esoteric metrics, all matter more or less depending on the traveler in question. If you would like to find out more about individual accommodations, we suggest visiting our lodging page and having a look at our Staff Pick recommendations. They should help you in your quest to craft the perfect Park City vacation.