From world-class festivals that attract serious star-power to little-known local affairs, Park City winters are full of entertaining events.
The official opening of the 2015-2016 ski season is nearly upon us. Snow is falling and Park City is prepping for the visitors who will soon descend on the slopes (literally) for ski season. Snow sports are a must. But if you're looking for additional activities, Park City is home to a plethora of events, festivals, competitions, and more. We've scooped up a selection of popular picks and quirky goings-on to keep you entertained during the winter months ahead.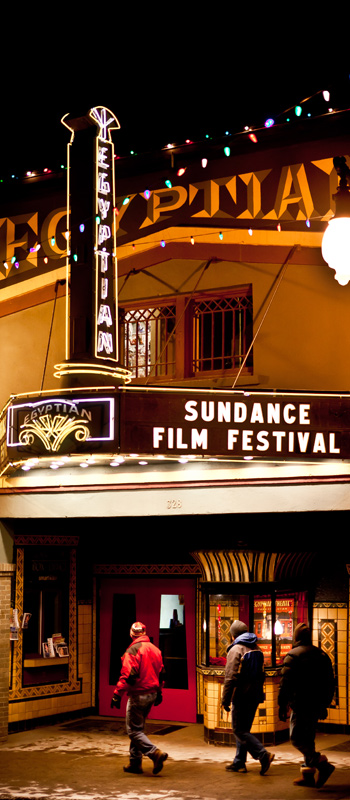 Sundance Film Festival
Sundance Film Festival, January 21-31, 2016, is the biggest Park City party of the year. With more movies than you can shake a stick at and no end of stars to gaze, this longtime festival is an international phenomenon. The Festival brings energy and hype to Park City, but few know that it's one of the best times to take advantage of Park City's world-class skiing. Somewhat paradoxically, the slopes are often emptier during the festival, because everyone is in town to watch all the films they can get their eyes on.
The first weekend of Sundance can be more expensive and more crowded. If you're considering a visit during this event, try searching the second week for better lodging deals. Consider a ski-in/ ski-out property to avoid driving and parking hassles. And definitely download the Sundance Film Festival eWaitlist app, which is an amazing way to see films without having to pre-purchase tickets.   Also, if you are looking for celebrity sightings, try stalking them on social media during the festival. Many of them update their Twitter, Instagram, or other networks frequently during the festivities.
Resort Roundup
Many of the season's best events are organized and/or hosted by the local resorts. The big two in town, Deer Valley and the newly condensed and reorganized Park City/Canyons Village, each sport a calendar full of winter events for the enjoyment of their guests. The Park City Grand Prix will be held starting February 1, 2016, gracing Park City Mountain with several days of freeskiing halfpipe. Deer Valley will host the 2016 FIS Freestyle Ski World Cup, February 3 – 6, 2016, and features three nights of world-class winter sport and fireworks.
The Utah Olympic Park is another exciting winter venue, boasting bobsled, skeleton, luge, freestyle aerials and more. The site of the 2002 Olympics, Utah Olympic Park serves as a training and event facility. Events stretch across the season, and are all worth checking out if you are a fancier of fast-paced winter competition.
On the less serious side, the Deer Valley Celebrity Skifest will celebrate its 24th year this December 4 -7, 2016. Ski legends and famous ski-enthusiasts will engage in their annual race, benefiting Waterkeeper Alliance. For those who can't make their way into the actual venue, you can at least enjoy it on CBS Sports the following week.
Holiday Cheer
Since ski season and the holiday season coincide, visitors can find plenty of festive fun around town. Park City Mountain is putting on a new event this year. The 16-day Decemberfest starts on December 19, and is due to include musical performances, entertainers, a tree lighting ceremony, and other seasonal amusements. While this is the event's inaugural outing, it promises to be quite the affair.
Over at Deer Valley, the annual Torchlight Parade promises an impressive holiday spectacle. While viewers enjoy complimentary hot cider and cookies in the plaza, performers will dazzle with synchronized skiing and torch routines, coming down Bald Eagle Mountain as they light up the night.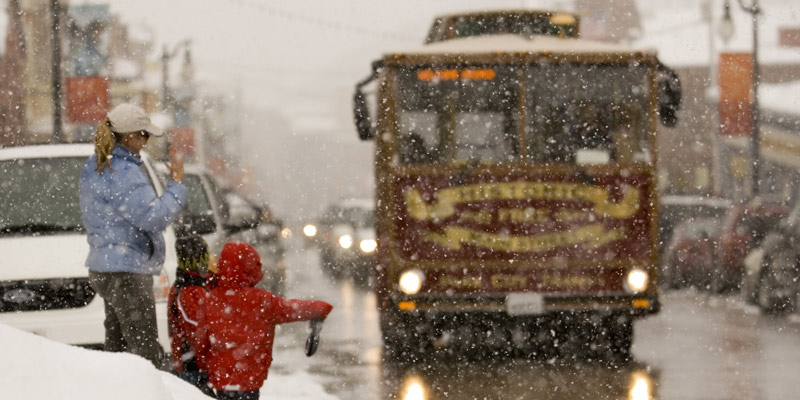 No talk of holiday celebration would be complete without a visit from the big man in red. To kick off the holiday season, Santa will preside at the 2015 Electric Parade on November 28. There, Old Saint Nicholas will participate in the lighting of the town Christmas tree and Main Street lights as well as wandering Main to check up on all the good little boys and girls in town. If you register for the event, you can even join the parade itself.
On December 19, Santa will descend the Town Lift, accompanied by carols, cookies, and cocoa. Santa is also an avid skier, and can be seen frequenting the resorts over the holiday season.
If you don't mind courting the naughty list, Main Street will host the Santa Pub Crawl on December 5. Hours of fun await; fueled by something a little stronger than eggnog. Bring an unwrapped toy, festive apparel, and your game face. This year's venues include Butcher's, Downstairs, No Name, and O.P. Rockwell's.
Spring Gruv
If you're considering a visit later in the ski season, don't miss the Spring Gruv, a 10-day festival packed with concerts and pond skimming at Canyons Village. Daring and colorful participants hurl themselves headlong into the drink in an effort to test the limits of their hydroplaning expertise. Think you have what it takes to make it all the way across the frigid 100-foot pond? Give it a shot. The Red Bull flows for the energy enthusiasts. Events run March 12 – 27, 2016.
Unstructured Fun
Don't worry—even if you don't attend a single event all season, there is more than enough fun and adventure in Park City to keep you busy all winter. Ski and snowboard, downhill and cross-country, the mountains are waiting. Get out there and get ready to have a fantastic time.
Local Tip: Visit our How To Food and Drink for après ski ideas.