Most people consider Park City to be a winter destination. We're here to tell you that the fun doesn't stop when the spring equinox hits.
With the incredible snow, world-class resorts, and abundance of ski lifts, it certainly looks like skiing is the main event in town. While it is true that Park City is one of the top global ski destinations, this mining town turned tourism hotspot has plenty to offer outside the winter months. As the weather starts to warm up and the snow starts to creep back up the hill, plenty of new options appear for alpine amusement. Here are a few of the best reasons to visit Park City in the spring.
Spring Skiing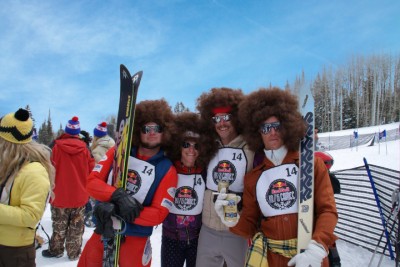 Just because the chilly months have drifted by doesn't mean the skiing is done. The Park City mountains close on April 10 this year, Alta and Snowbird will continue to operate well after the Park City season ends. The nature of skiing changes a bit when the weather warms up. It becomes less like an expedition to the Arctic, and more like a day at a downhill beach. Coats and gloves come off, and sometimes more than that. The snow can become a touch unpredictable, with patches of ice or slush, but still retains enough structure and depth to provide an awesome day of skiing. Instead of reaching for a mug of cocoa, spring skiers can find themselves looking for a refreshing sip of something cool between runs. Speaking of runs, the slopes tend to be a bit more sparsely populated. Lines aren't as big of an issue, and there is less competition for space all around. As a bonus, spring ski conditions are perfect for one of Park City's most outrageous events.
Spring Gruv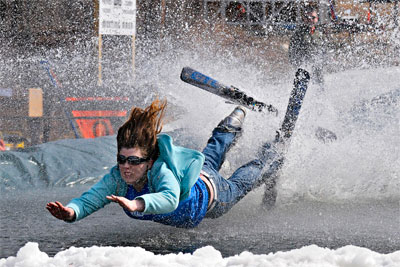 During the second half of March, Park City Mountain hosts the annual Spring Gruv. Spring skiing, concerts, and the annual Pond Skimming event take center stage as the resort prepares to end the season. The Pond Skimming is the true highlight of the event. 100 brave—or foolish, depending on your perspective—contestants rocket down the slope in an effort to skim across a chilly pond on their boards or skis. The results are rarely graceful, but always amusing. Costumes are de rigueur, spanning every conceivable gimmick and gag. A lift or gondola ticket is required to spectate, but worth every penny to watch the ludicrous display unfold to riotous laughter and applause. Just don't forget to sample everything else the Spring Gruv has to offer, because there is a ton to do and see.
World-Class on a Budget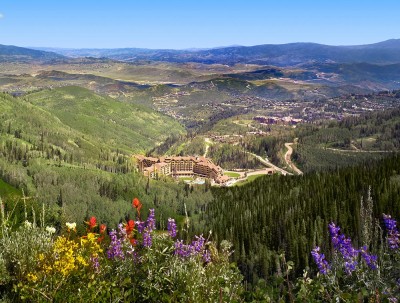 Accommodations like the Montage Deer Valley or The St. Regis Deer Valley are exquisite luxury properties. During the ski season, these high-end hotels cost a significant portion of Fort Knox. Don't get us wrong, the expense is entirely justified by the incredible comfort, luxury, and amenities these top hoteliers provide, but it is a bit of a stretch for the average budget. During the spring, the prices drop precipitously. An early April stay at these paradisiacal palaces isn't going to require that you take out a second mortgage on the house, though the rates certainly never dip into the "budget" range. Still, a stay at some of Park City's top properties for a bit of spring skiing can easily become a memory to last a lifetime.
Not every trip needs to be a lavish spectacle, however. Beyond the world of high-end resorts and hotels, there are dozens of hotels, hotel condos, vacation homes and other accommodations for those looking for a more budget-conscious vacation. Many of these properties begin to deeply discount their rates in the spring. Properties that would have been too pricey during the peak season can become affordable enough for even spur-of-the-moment retreats.
On top of the price considerations, minimum stay requirements tend to loosen up during the spring. Properties that normally require four or five night stays can drop as low as two night requirements. Popping away for a weekend or two becomes an attractive prospect when prices fall by more than half across the board and you don't have to commit to more than a couple of nights. But what to do while you are here? Turns out, there is plenty to do in Park City in the spring.
Outdoor Adventure
With the sunny skies and warmer temperatures, spring is the perfect time for enjoying the many natural wonders of Park City's mountain scenery. The weather is perfect. Not winter cold, not summer hot, with plenty of greenery to go around. Hiking and biking are the obvious choices. Beautiful views, ideal conditions, and any amount of challenge—from an easy walkabout to a grueling ride.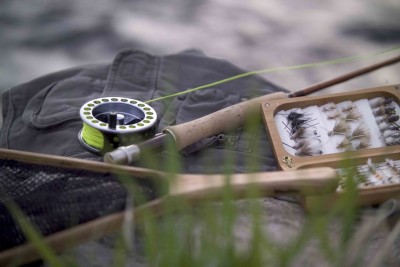 But there is more to try. Hot air balloons are not an uncommon sight in the morning hours, and present a novel and unparalleled view of the mountains. After slipping the surly bonds of earth, a bit of angling might provide variety to your day. Park City is conveniently located near a number of choice fishing spots, and spring is a great time for some refreshing fly-fishing. The bloom provides a magnificent backdrop for the pleasures of piscatorial endeavor. On the subject of aquatic destinations, a quick trip down to Heber will take you to the Homestead Crater, a steamy geo-thermal hot spring inside a naturally occurring limestone crater of sorts. Not only is the soaking area an amazing treat for your skin, but the crater is the only warm scuba destination in the continental US. After all the outdoor amusements are done for the day, Park City has you covered for the rest of the night.
Dining Discounts
Park City's Historic Main Street and the surrounding area are home to more than 100 restaurants. There is very little that isn't represented somewhere in Park City. If you wanted authentic Atlantean cuisine, you might be out of luck, but Park City can tickle your taste buds in so many other ways, you'll forget your Platonic cravings. From seafood to farm fresh flavors or Viking fare, the options are nearly overwhelming. Fortunately, many Park City restaurateurs are looking to grab the last bit of the winter season traffic and the first morsels of summer tourism, offering deep discounts for their culinary talents. Make sure to look around for sweet deals. Two-for-one coupons are commonly found in the local newspaper, as are any number of other ambitious promotions. Try a few options; you're not likely to get a better price any other time of the year.
Even More
The fun doesn't stop at the end of our list. New events and deep discounts pop up as readily as tulips. Check regularly with lodging services, restaurants, the Park City Chamber website, the stores at the Tanger Outlets, or any other business or group you might be interested in. Last-minute options are always appearing. Whatever your fancy, definitely keep an eye on Park City as a destination for your spring flings and end-of-season getaways. Park City has a lot more to offer than just skiing and Sundance. Make sure to watch our deals page for the hottest new coupons, savings and packages.
---
[DISPLAY_ULTIMATE_PLUS]