Park City claims to have more restaurants per capita than any other city in the nation. With over 120 restaurants, this small ski-in/ski-out mountain town runs the gamut of culinary creations: casual and classy, gluten-free, vegan, American to Thai, and everything in the middle.
Whether you're looking for fuel after a long day of skiing or heading out for date night, make sure to add these gems to your food tour itinerary.
Established Favorites Quick and Delicious Hits For the Love of Carbs Local Favorite: Handle
— Established Favorites —
How many ski-in distilleries are there? Definitely none as cool as High West Distillery and Saloon. Western-inspired "gastro-saloon", also known for their impressive small-batch distilled whiskeys.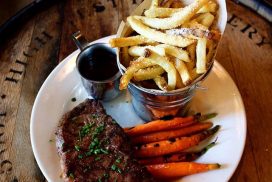 Celebrating an anniversary, special occasion or just "treatin yo self?" Splurge on a meal at Riverhorse on Main. This institution on Main Street serves seasonal American cuisine, beautiful views any time of the year, and live music on the weekends.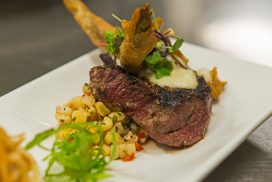 Two words: coconut shrimp. Open for lunch and dinner. Just remember to resist the urge to lick your plate when finished.
Reef's is a seriously cool place with a seriously impressive menu of Mediterranean fare. This family-owned and -operated, darkly lit, and eccentrically decorated space buzzes with music, all intentionally designed to engage the senses. For sure the best hummus and pita in Utah, and the Moroccan salmon is write-home delicious.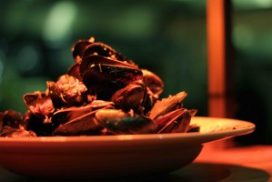 There are a lot of upscale "American" restaurants in Park City. But that shouldn't stop you from trying The Farm's modern American offerings. Established in 2010, and now on to their second executive chef (the former's protégé), Manny Rozehnal has given this old-but-new restaurant a German spin. Think herbed spätzle, bison chili, hazelnut-glazed pork belly and green apple cobbler.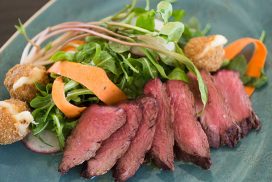 Attending a summer concert or taking a lunch break from a beautiful powder day, the turkey chili at Deer Valley is the stuff dreams are made. In fact, it's even better when poured over nachos. Turkey chili nacho dreams. You'll find turkey chili at Deer Valley Resort and the less-well-known Deer Valley Grocery Café, located in the Deer Valley Plaza.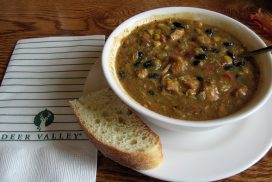 Unique Indo-Persian fusion magic that's also locally sourced. Think kebabs and curries. You'll just like this place- food, décor, service—all of it.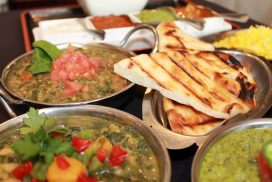 The words "affordable" and "Main Street" don't usually go together. But Park City locals know Vinto as an affordable and family-friendly Italian spot at the base of historic Main Street. You'll find it's casual enough for kids and "adult" enough for parents. Wood-fired pizzas, fresh ingredients, and reasonably-priced wines.
— Quick and Delicious Hits —
I'm drooling just thinking about their fantastic salsa bar. Salsa bar. . . need I say more? Cheap, delicious Mexican food at its best.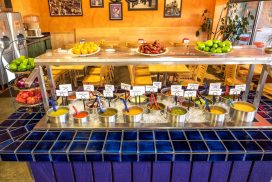 Not just a Park City favorite, but a Utah favorite. People come far and wide to eat whatever addictive chemical they've put into their salad dressing. (I'm sure it's made with love and nothing more)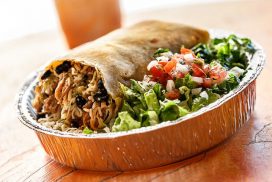 A migrant from Salt Lake, this New York-style pizza place is hands-down the best slice in Utah. So praise to the pizza gods that Park City can now easily enjoy it too. Stop in for a slice or take away a pizza and their wicked wings.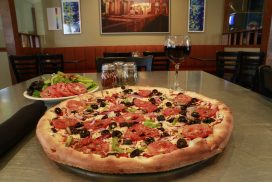 A respite at the Junction, Whole Foods is a fool's paradise, a delicious food paradise.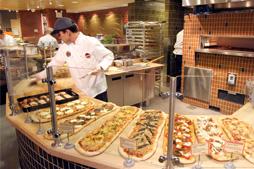 — For the Love of Carbs —
Tucked behind its namesake's full-service restaurant, the bakery is a pastry lover's happy place. They bake a perfect Mile High Apple pie, my favorite Chocolate Raspberry Chiffon Cake, and flakey, buttery croissants. Wake up early for the Saturday-only cronuts. Fresh bread, lasagna, quiche, soups, and coffee as well. You can even order an entire Thanksgiving dinner.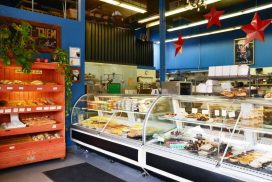 Artisan breads locally produced with local hands using locally sourced ingredients. They do not have a storefront, but source a lot of restaurants. One almost guaranteed spot is The Market, which almost always has a few loaves in their bakery, especially if you get there earlier in the day. If you find an olive oil and sea salt baguette, you will most definitely regret only buying one. Don't waste your life having regrets.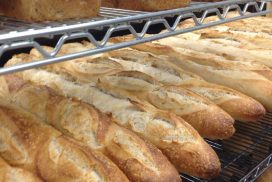 — Local Favorite —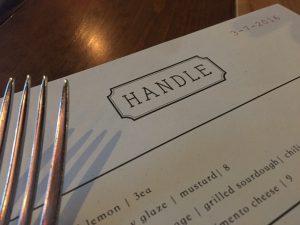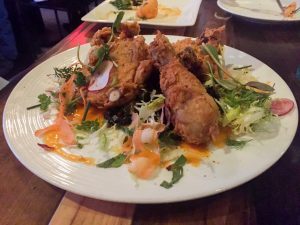 Handle $$$
Handle is a beautiful combination of seemingly disparate parts. Their location: an older, forgotten strip mall behind Main Street, almost keeps this restaurant underground. Thankfully, looks are deceiving, and the comfortable yet sophisticated decor and intoxicating smells found inside the space allow you to not care where you are.
Opened in late summer of 2014, Handle hits the sweet spot between inventive, fresh, and classic—doing so with seemingly little effort. It's as if a Rocky Mountain ski bum and a Brooklyn hipster had a culinary baby and named him Handle. And speaking of names, Handle, "aka what they do" and what they do is awesome.
Their namesake and executive chef comes by way of Taliskar, just around the corner on Main Street. Chef Briar Handly is an award-winning, clever and inventive chef. Handly could easily thrive in any big city with his talent and vision, and yet we're lucky he's made Park City his home.
By all accounts and encounters, the entire team at Handle must love to feed people as much as they love to eat. Handle offers the best of American cuisine, mostly small plates, but be warned: the fried chicken could feed a small family.
"We are driven by the seasons and strive to source local and regional ingredients at the height of freshness.  Our aim is to transform one's notion of familiarity through food and drink in a lively atmosphere.  Our menu is simply crafted and balanced. We are inspired by new techniques, our community and resources."
On a final note: HSL, Chef Handly's newest restaurant, opened in Salt Lake mid-April of this year. If you're in the valley, better yet, take a trip to the valley for HSL is as pleasurable as its sister location. Looking forward to seeing how Handly and his team take Utah to the next-level in culinary deliciousness.