The Utah Olympic Park is one of the largest, and most striking, reminders of the 2002 Winter Games. These impressive jumps, and the surrounding countryside, serve as the home to the US Nordic Combined program. Athletes from around the country flock here to engage in ski jumping and cross-country skiing for this unique combination event. One of the Olympic athletes that call Park City home, Taylor Fletcher, took time out of his training schedule to talk to us about his Olympic experience, his sport, his passion for cycling, and his hopes for the future.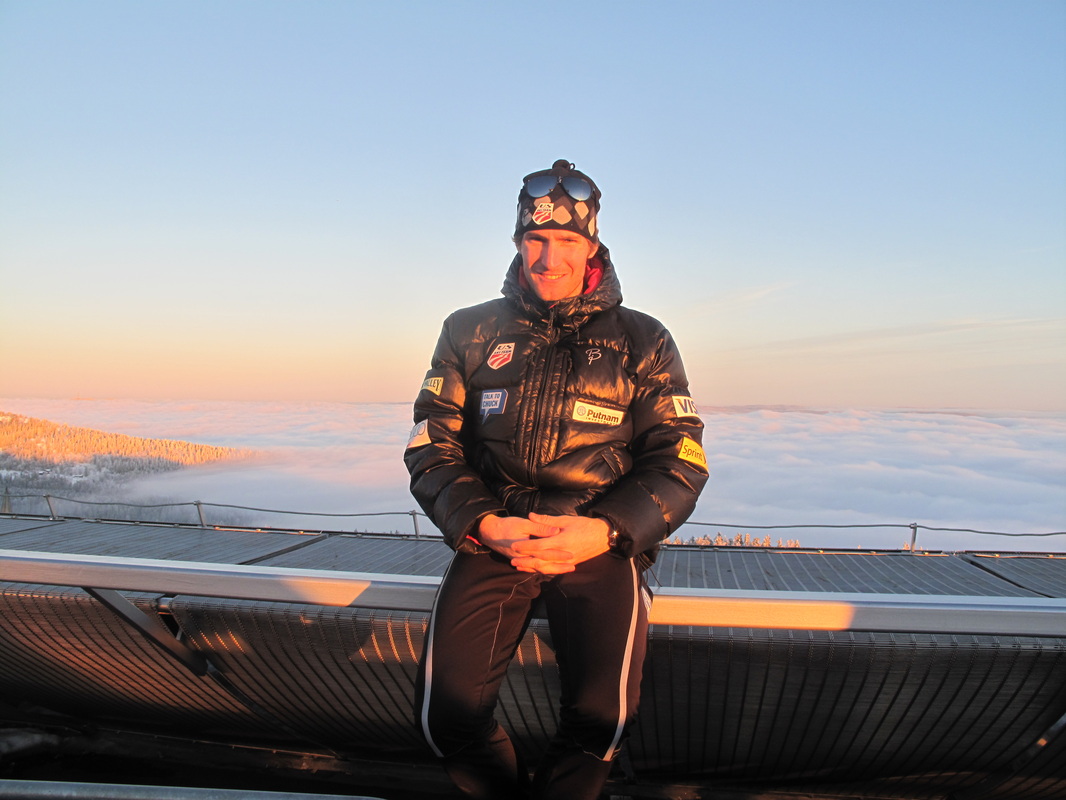 Thanks for joining us. You are an Olympian, yourself. The summer games recently wrapped up. Did you watch those, or were you busy training?
No, it's actually a great way to recover. Because they're a couple hours ahead, I'm able to watch them between training sessions. It's fascinating. Being a winter Olympian, I know how much goes into training. To see what they do, and how they train for the olympics, but also how they perform is fascinating. I enjoy it. I mean, I enjoy every aspect of sport, so…
You just won a national title yourself. How was that?
It was good! Ever since 2011 or twelve I've been on the podium, and to actually, finally be on the top step of the podium was a lot nicer. It's gratifying to actually win the national championship, to say I'm the national champion, but also it's a testament to the training I've been doing to be able to come out on top.
So, I know you have been on the podium for several years. What was the secret? How'd you finally get from the second or third step up to the top?
Our sport, with ski jumping and cross country, it's a very challenging combination. The top ski jumpers are extremely light and have a lot of explosive but fast twitch muscles. And endurance athletes like cross country skiers are all slow twitch, slightly heavier. So, I've been one of the fastest skiers in the North American continent for years, but jumping has always been my failing. Recently, we've hired a new jump coach that's gotten me to the point where I've been extremely confident with my jumping. I've been able to build on it, and I was able to put in a good run. Just a minute or two back from the leader, Ben Berend, who's been jumping absolutely on fire. I was thirty seconds from the next fastest guy, my brother.
What's it like having a brother as a direct competitor for spots on the podium?
We've actually talked about this a lot. I think the easiest way to say it is, it's the hardest but easiest thing. If I'm going head to head with him for the win, I know exactly what he's going to do, and he knows exactly what I'm going to want to do. We are probably the best teammates that you could have because we know each other so well. We go out and train together almost every single day. He pushes me on the jump hill, and I try to follow him there, and he tries to follow me in the cross country. He's slightly better at the jumping and I'm better at the cross country side. We work together, and try to fight and become the best that we can. But when it comes to a race, he's just another competitor, another person that I want to beat. I'm sure the same goes for him.
I noticed that, if you look outside, there's not a lot of white on the ground out there. How does that change the game? Is it a completely different sport in summer?
No? I mean, Nowadays the jumping facilities are so realistic to snow. The only difference is that you're sweating inside a jumpsuit instead of freezing. For cross country we use the roller skis. They're longer than a roller blade, but much shorter than a ski. But you use the same boots and bindings as if you were on cross country skis. You just have to battle the heat, if it's a hot day. It's a good show and it's always a quality competition. It makes our job a lot easier, we don't have to go searching for snow all year round to get training. You can just hop down the road, ski year round and get the quality of training you need.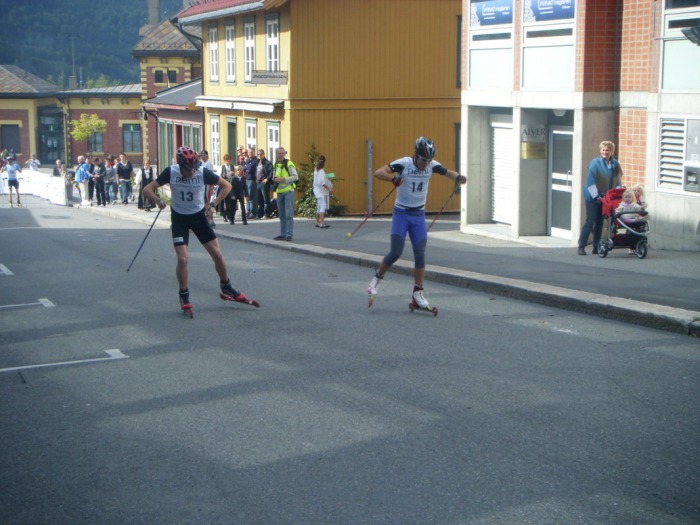 So which do you prefer, the sun or the snow?
Umm… snow. Growing up in a ski town, I was on skis at a very young age, and winter was something that we always looked forward to. It's a lot nicer not to have to go out and be sweating. You can just throw on a jacket and still be warm, but much more comfortable.
So, you're training training year round, all the time. What's the hardest part of that?
Trying to stay motivated. Sometimes you wake up and you're like, "man I've got two hours, three hours of endurance I've got to do today." And the last thing you want to do is get out of bed. Especially on days where it's raining or it's super windy, it's hard to want to get out there every single day. But the thing that's kept me going is just wanting to achieve my goals, and wanting to be the best person, best athlete that I can, and wanting to stay on top of my game. And, you know, hearing the national anthem. That's what gets me up in the morning every single day. I'm lucky to be able to do what I'm doing. I chose sports instead of going to school right away, and that's been difficult, but it's taken me far. I get to go places many people don't.
You mentioned wind, rain. What's the most adverse condition you train in?
Rain, probably. In snow, you don't actually get wet, but in rain you get soaked almost immediately. Wind can be very challenging for us on the jump hill. If it's too windy, we can't jump. That's always a bummer.
Does the wind make it dangerous? Will it blow you off course?
Well, there's two types of wind that we deal with on the jump hill, there's headwind, which is coming up the hill, in your face, and then there's tailwind. Tailwind is really hard to jump in because it pushes you down. You have to build up speed to jump farther, whereas headwind pushes up and you need less speed. It's creating more lift for you. They can both be pretty dangerous. Really strong winds can cause you to lose control and crash.
In training, or in competition, what was the single most exhausting experience you've had, and how did you get through that?
That's a hard question. The single most exhausting experience I've had was probably the first time I did a VO2 max test. When I was 13 or 14 years old. They're short, but they're to the point of absolute exhaustion where you can not walk, ski, or run any further. You pretty much collapse on the treadmill and fall off. That's the absolute peak of exhaustion When you're a young kid, you don't think it's easy to get that tired that quickly, and it hurts. It hurts a lot, but it's an important standard of testing for us. So it's important we go as hard as we possibly can, for as long as possible.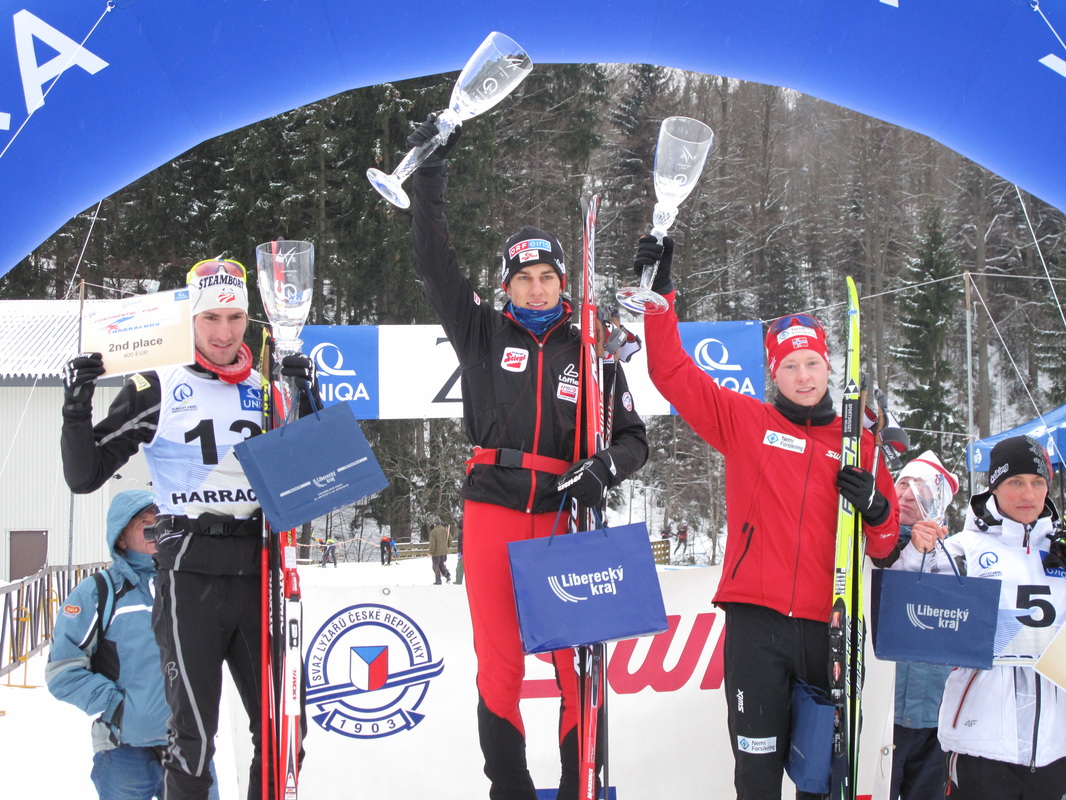 But on the flip side, you get to do a lot of rewarding things as part of your career. What's the most rewarding, best part?
I would say the most rewarding part was, one, going to the olympics and representing Team USA in both Vancouver and Sochi. Competing for your nation, it's a privilege and it's an honor. I wouldn't say it's close to serving for your country, but if there was another level that would be pretty close. I would say the second greatest part is going to world championships and winning a medal for Team USA in a team event. To be able to stand on the podium, and see your flag as one of the top three is gratifying, and just going out there and working hard is enjoyable to me.
The work itself is a reward?
Yeah. I'm the type of guy that I know success isn't going to come by just sitting around and waiting for it. It takes time to go out there, put the effort in, make sure you're working hard enough to attain those results. I trust in the system that we have, and I know if I go out there every single day and do what is prescribed of me to do that it'll come. It's just a matter of time.
So you've been doing Nordic Combined for a long time. Is it always going to be Nordic Combined? Do you think you'll ever transition to another sport or a different role in the sport?
Yeah, there's always the time when it's time to hang it up. I don't see my time coming for at least for another three, four years. But you never know, one day you might get hurt, you're unable to do it. I would definitely like to continue in the sport in some fashion, whether as a coach or something like that. But after I'm done skiing, might go into cycling a little bit, see what I can do there. I want to have fun, come away with something, and say that I've accomplished something. I don't want to quit just because I'm tired of it. There are days that are super frustrating, but those are the days that get you further along and help you get better and better.
I've noticed you are wearing a Stay Park City Cycling hat right now, how did you get involved with Stay Park City cycling?
I've been a cyclist here in Park City ever since I moved here in 2009. I was a rider for a club here in Park City for a long time, but that started to die. I've been getting my bikes worked on at Mountain Villa for the last couple years, and he mentioned Stay Park City Cycling. It seemed like a good way to ride and train with a lot of people. I like how they have rides every single day for any level rider. It's something that I appreciate, knowing that there's somewhere for people to go where they can go on a group ride. It's starting to build really quickly, I think there's a 110 people in their first year. Hopefully, eventually, we can build a club team that actually goes out and races every weekend. People that can push the pace on some of the harder rides, but also have awareness of public safety for cycling and for riding the roads, sharing the roads with others. So, I think that it's a great aspect of Park City and I'm happy to be part of it.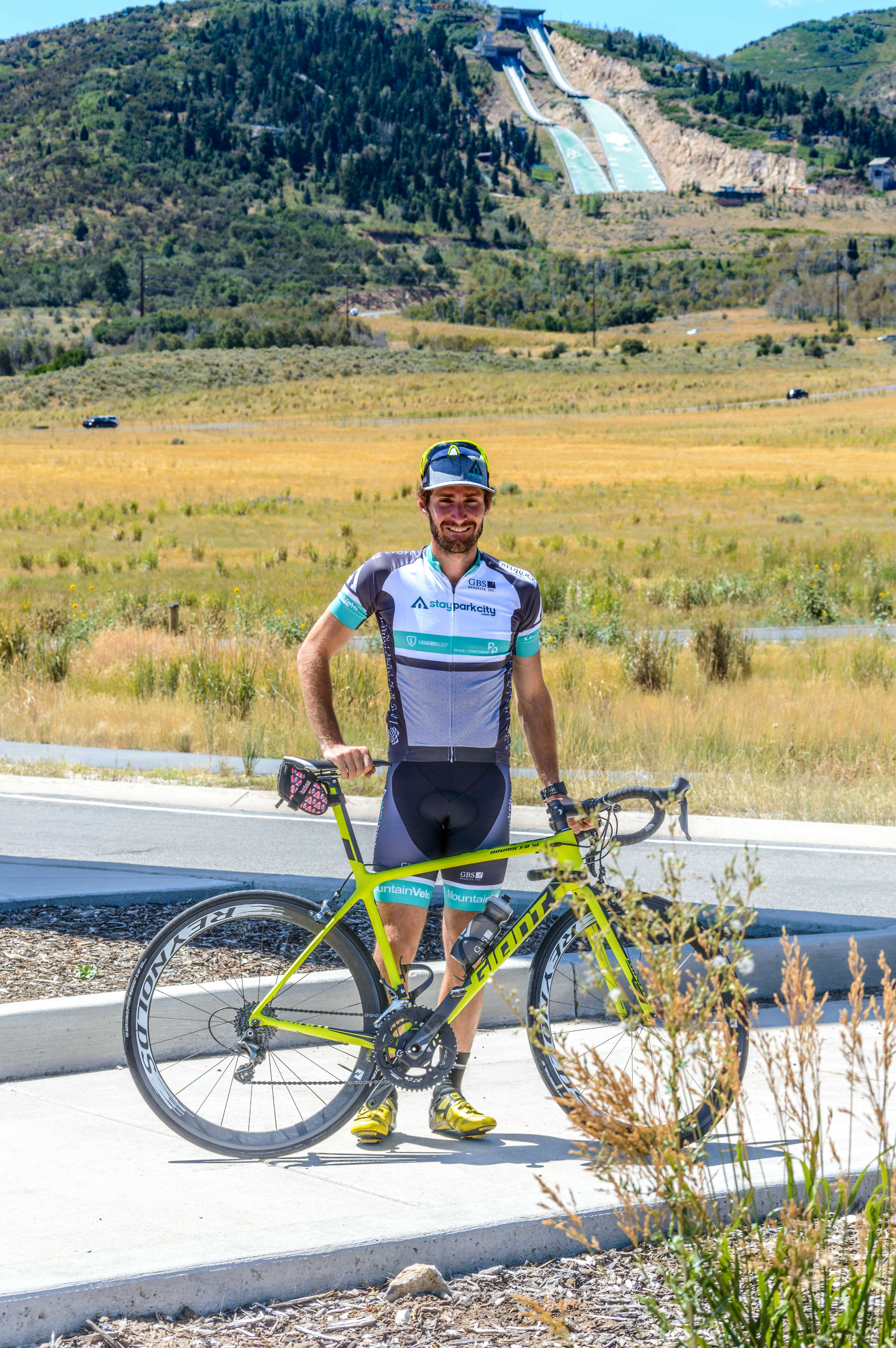 Speaking of cycling, you said you'd been involved in it for a few years, what's cycling to you? Is it a hobby, a part of your training, or a second passion?
I would say it's all of the above. One, We get two weeks off from skiing every year. To go straight back into training, and ski, and be on roller skis, and only do that for the whole entire summer? It's very, very easy to just be burnt out and completely sick of it. I've maybe been riding a little less this year than in years before, but it's still a great way to mix things up so I'm not doing the same thing over and over again every day. As far as a second passion, I love to get out there and I love to race and challenge myself physically. Going out there and making it challenging on others trying to beat me is enjoyable. It's just a great way to get out there and explore. It's easier to be aware of your surroundings because you're putting in the effort yourself. You're not just in a car, pushing your foot down to go faster.
I know that the Nordic Combined program moved out here from Colorado a few years ago. It's been some time since then, but how has that impacted the sport of Nordic Combined overall?
It's challenging here in the US, because it's not such a well known sport unless you're in, say, Steamboat Springs, Lake Placid, or Park City. But over in Europe, it's huge. We average about 20 million views, per event, per weekend. That's where our sport's completely based. All of our competitions are over there, and it's a lot of fun to be able to go over to Europe and compete all winter long, have 10,000 fans and the end of the course and the bottom of the jump hill watching us. I would love to see that here more. I mean, when we had Olympic trials here in 2014 we had all the flats and the base of the jumps completely filled with people and they loved watching it.
This year we're having world junior championships for ages 19 and down.Getting a lot of people down to watch that would be really cool, and I think that our team has a very, very good chance of winning a medal. To win that on home turf would be something special. I think that we're starting to rebuild. We had a lot of athletes retire after Sochi, just because they had gotten older and had accomplished what they wanted. Now we have a very youthful crop of athletes, I think our oldest guy is my brother, who's 30, and we have an athlete that's 16 and making his way up. I think that we have a great mix of youth and experience, and I think that's beneficial to everybody.
Speaking of the young set, the rising generation, where do they come from? Do you mostly pull from areas around these facilities? Like, for instance, does a lot of the recruiting come from around Park City? Or do they come to, say, Park City from abroad, elsewhere in the country, to take up the sport?
It's kind of everywhere. A lot of our team is from Steamboat. One is from Park City. And then we have two kids, the Loomis brothers are from Wisconsin. Once you get to a certain age, for instance, when you get named to the national team, they want you out here in Park City. The world class training facilities are up here, Team USA's based up here,and our organization, USA Nordic Sports, is based out here. It's a lot easier to work with the organization, and for those athletes to get the improvement they need when they're out here, training with the top athletes.
Every club had their own system, and they've been working very well. I know that Steamboat has about 150 young Nordic Combined athletes starting to build up, from ages 4 to 15 years old. Park City's got a lot of great Nordic Combined ski jumpers, and Lake Placid's there as well. They all have their own programs, and they build these athletes up. When they get ready to become part of the national team, the coaches tell them "you have you get ready to come out to Park City and train with the national team." That's something that a lot of athletes strive for, and it's a lot of fun to be able to head out to Park City.
One last question: You lead a very interesting life as an Olympic-class athlete, engaged in a fascinating sport. But if you had to hold down a 9-5, what would it be?
I'm currently going to school right now, through Westminster and Utah State, to earn a Business Marketing Degree. I would love to see myself in an aspect where I'm promoting athletes, health, and wellness. That's something that I'm very passionate about. If I was going to work a 9-5 job, I would hope, and I feel pretty confident that I would, end up somewhere that I could work with athletes, and get the word out about fitness and how it can lead to a healthier life.
Sounds like you've got something to fall back on!
I hope so!