It's not just the downhill resorts that make Park City the perfect winter destination—the options for cross-country skiing are also world class. Whether you're on classic or skate skis, there are tons of miles to cover in and around Park City. Consider these options for your next skinny ski outing, and check the winter trail maps from Mountain Trails Foundation (which also posts regularly on its Facebook page) and Basin Recreation for up-to-date grooming reports.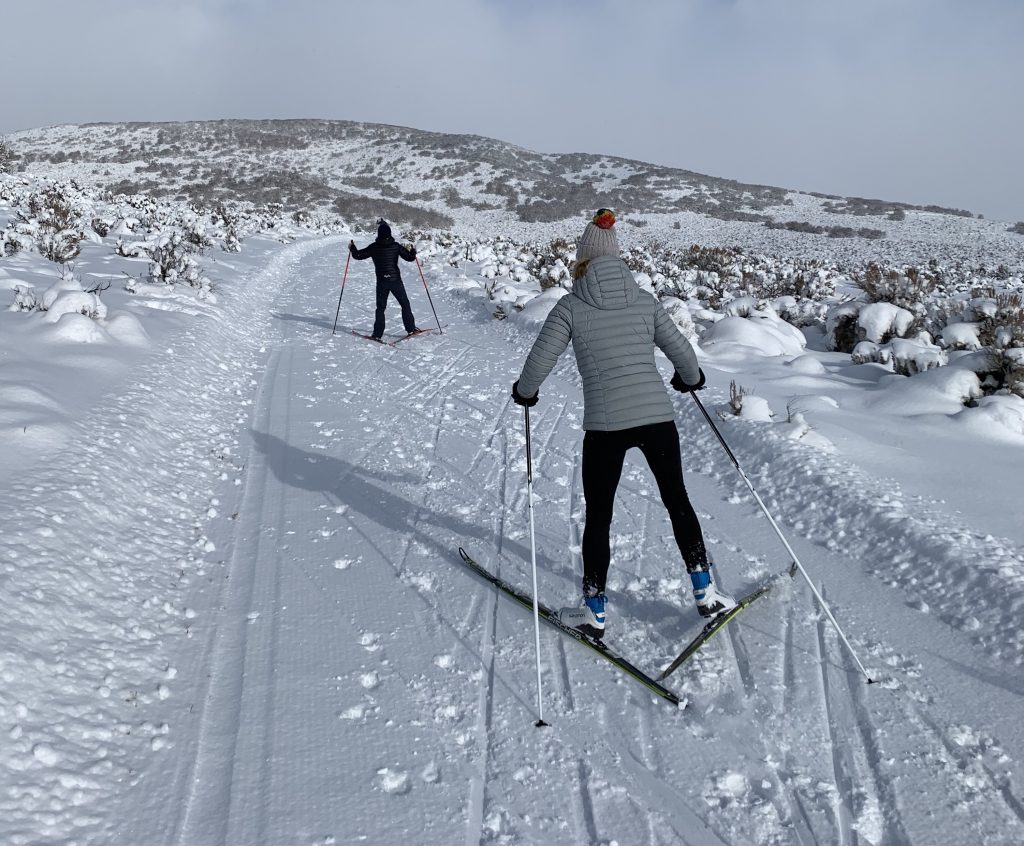 Before you head out: Where to rent cross-country skis
Head to White Pine Nordic Center (next to Hotel Park City) to get the skis, boots, and poles you'll need for classic or skate skiing. A complete setup for either type is under $30 for a daily rental. Not only does White Pine carry a range of top equipment, the center is also home to 20K of groomed trails and offers private or group lessons regardless of experience.
This free trail network maintained by Mountain Trails Foundation is home to more than 25 kilometers worth of Nordic skiing trails with daily grooming. Note that you'll sometimes have to share these skier-friendly trails with hikers, snowshoers, dogs, and fat bikes, but the rolling terrain offers enough space for everyone to coexist. Mountain Trails Foundation also started grooming Bonanza Flat, a high elevation area above Park City, in late 2020. It requires a hike up Guardsman Pass to reach.
At the aforementioned White Pine, you have to pay to use the 20 kilometers of groomed trails, but the daily fee is worth it for access to its ski-only beautiful terrain. (Both 10-punch and season passes are available.) The 3K loop is perfect for testing out your skills on easy terrain, the 5K loop adds a bit more of a challenge with some hills, and if you're a seasoned skier looking for a tough workout, head for the 10K loop, which skirts past the iconic white barn (McPolin Farm).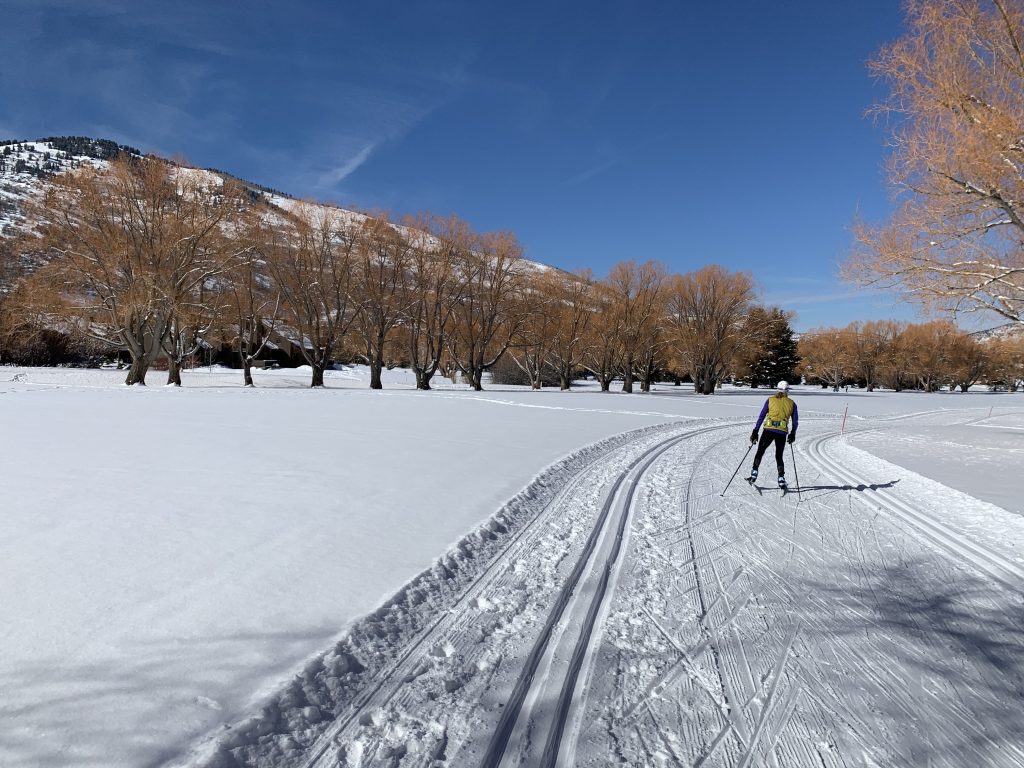 Maintained by Basin Recreation, there are almost 10 kilometers of easy, beginner-friendly groomed trails near Kimball Junction. Starting from The Fieldhouse, you can ski along what's normally a paved bike path past the Swaner Nature Preserve, a historic barn, and through neighborhoods on the way to the McLeod Creek Trail. You can create a variety of smaller loops within the smaller space, then skate past the Copper Moose Organic Farm before heading into the woods alongside a creek. Note that dogs and walkers are allowed on these trails.
At the bottom of the hill that leads up to the Utah Olympic Park, you'll find a groomed 5K skiing trail also maintained by Basin Recreation. The lower loop in the open meadow is suitable for beginner to intermediate skiers, while the upper loop is quite technical with challenging climbs. Take note of the day of the week—the direction changes based on even or odd days.
For a quick workout in a different location, Basin also grooms a one-mile, dog-friendly trail behind Ecker Middle School.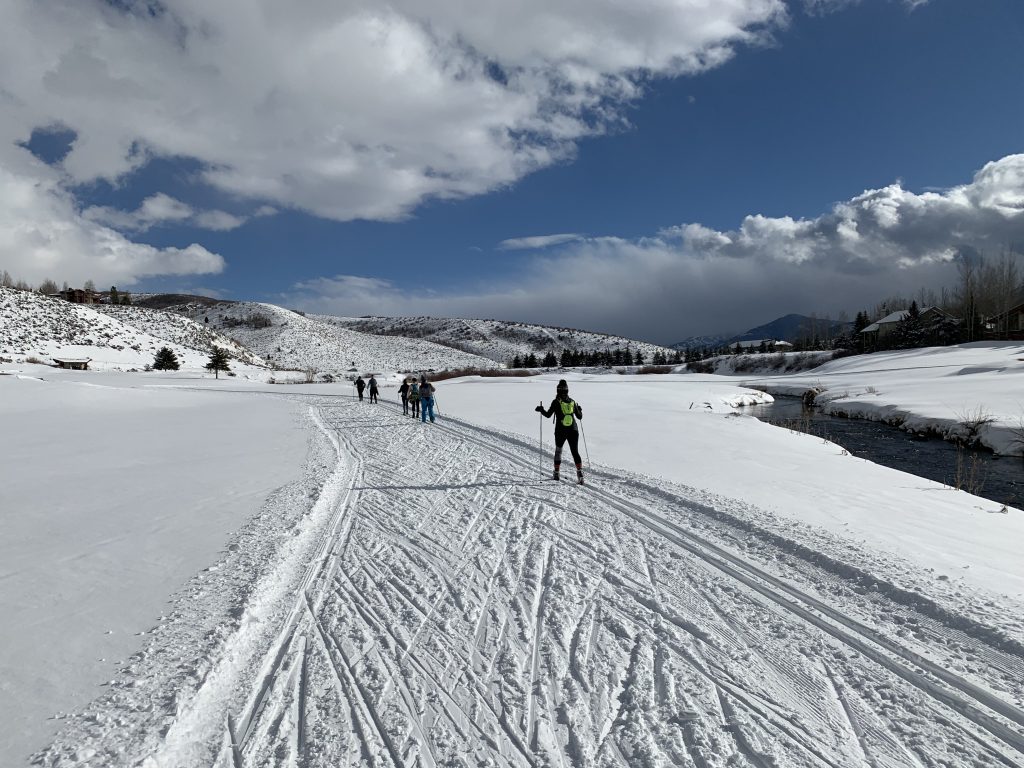 Outside of Park City
There are even more Nordic skiing options just outside of Park City. Head to Midway and buy a day pass for Soldier Hollow, where you can rent or demo skis to tackle the groomed trails ranging from beginner-friendly to Olympic level. Just one exit away from Kimball Junction is The Jeremy Golf and Country Club, which sets up two groomed trail systems throughout winter, available for day use. Rentals, ski tuning, and event Nordic apparel for purchase are available. Just down the canyon also off I-80, Mountain Dell is the home location for The Utah Nordic Alliance (TUNA) and features 12 kilometers of groomed trails.