As Headmistress for the Fox School of Wine, Certified Executive Sommelier Kirsten Fox educates her Park City students in an approachable, fun way through a variety of classes. This summer, Fox started "Recess at the Rock," a Friday night class series—held at the Rockwell Room—that involves tasting, learning about, and grading different wines. Upcoming classes include "Explore South African Wines" and "Classic French on a Budget." Fox shared her five Park City local picks below.
1. Riding the free transit system
"It is so fun to drive (or walk) to one of the free transit hubs, park, and then stand there waiting for buses with people that are typically heading to the same place. It's like a festival atmosphere. Everyone's guard is down and they're chatting with each other. You'll stand next to a family and talk about where you're from and what brought you to Park City. Just hearing their excitement is really a reminder of how blessed we are to live here." Learn more about how to get around Park City.
2. Mountain biking up PorcUclimb
"Before last summer, I tried mountain biking at the resorts and I always felt terrified. Then my friends showed me PorcUclimb in Round Valley and I'm forever grateful. One of the turns has a line of bushes that are trimmed so that they don't encroach onto the trail, and every time I pass them, they remind me of a line of vines in a vineyard. It's one of my favorite turns I've ever discovered in mountain biking." Find more local picks for Park City trails here.
3. Watching concerts at Deer Valley
"At the outdoor Deer Valley concerts, you get to see people you haven't seen in a while, and there are kids running around and rolling down the hill. You hear the laughter and the chatter. You get to see local bands and aspiring songwriters, and it just makes me feel so happy to be a part of Park City. I can't go up there without food and wine— that's part of the entire experience."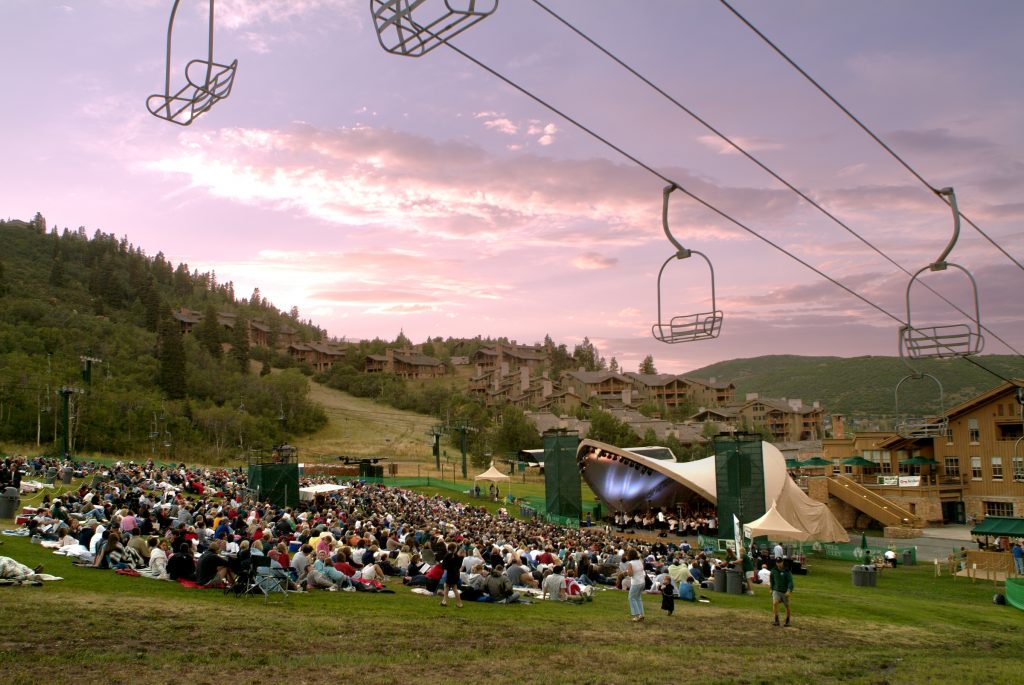 4. Eating gnocchi at The Brass Tag
"I love the porcini mushroom with chicken and gluten-free gnocchi at The Brass Tag. The executive chef Holly Cox studied under an Italian chef and has a way with Italian food that is both traditional and cutting-edge. The flavorful dough is absolutely stunning, and the porcini mushroom sauce is so rich and deep and amazing. It's just a stunning interpretation of an Italian dish. I don't know if it's on the menu right now, but try it in the winter."
For a good wine pairing with the gnocchi, Fox suggests either a Barolo or Barbaresco if you have the means. For a less expensive option, she recommends a Nebbiolo from the Piedmont region of Italy.
"In the Piedmont region, many of the vines have grown near mushrooms and they'll often pick up the savory quality. It's got this amazing earthy smell, but the wine itself is relatively delicate. You can see through it like a Pinot Noir, but then the Nebbiolo grape offers a super tannic experience in your mouth. It cleanses your palate with the richness of the porcini mushroom sauce and cleanses the butter off so you can taste the next bite of the dish better next time. It's a match made in heaven."
5. Skiing on a weekday at Deer Valley
"This is why I live in Park City. I grew up with my parents taking us here to ski. We used to come here from California, and as a young adult, I decided to move here with my then-husband and children. I live here for any weekday at Deer Valley Resort from 9–11 a.m. I like it because they have ski storage right by the runs, so I can easily get to the parking lot early and answer emails from my car. I go up at 9 a.m. and the arrival process is so easy. As I've gotten older, my back can't take a lot of impact. The grooming is so top-notch that I can confidently ski really fast—for me—and know that I'm not going to be jarred unexpectedly."