COVID-19 may have put a damper on plans to enjoy normal indoor dining this winter, but at least there's a silver lining: Many restaurants have upped their takeout dining options so you can still enjoy the best of Park City's food scene on your own terms.
As of early January, Park City restaurants are allowed to offer indoor dining with restrictions, including social distancing between tables, extra cleaning protocols, and mask requirements when not eating and drinking. (The Park City Area Restaurant Association offers tips on how to dine safely during COVID.)
But for a super-safe approach to dining this season, consider the restaurants' takeout and delivery options listed below. Insider tip: Call or order earlier than you think you need to. Not only will the restaurants appreciate the advance warning, you'll also avoid the inevitable dinner rush and get your food in a timely fashion.
An early adopter of curbside takeout, Hearth and Hill has continued to innovate its meal offerings throughout the pandemic. Family dinner options for four—including Fajita Night, Orange Chicken, and Short Rib—all cost around $60 and include a main dish plus a ton of sides for feeding a group. In addition to the regular menu, Hearth and Hill offers two types of frozen lasagna to heat up any time, and the restaurant typically comes up with fun meal packages around various holidays. Order online or use the Toast TakeOut app.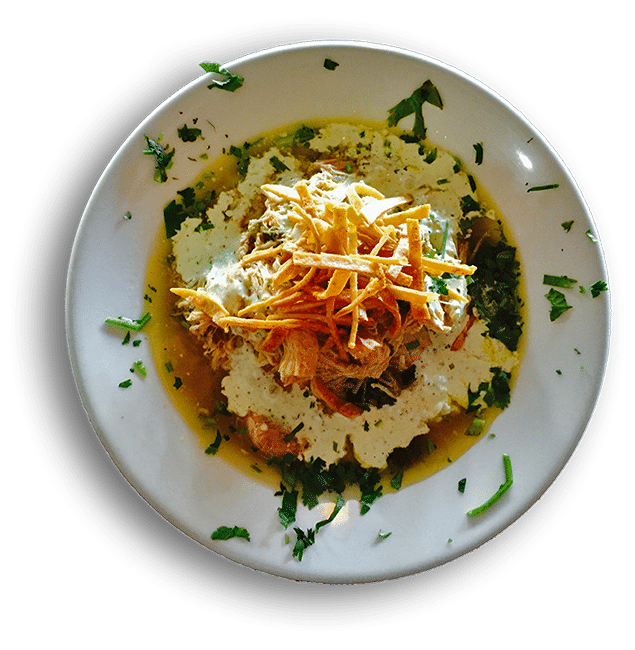 The speedy sister restaurant of Sammy's Bistro was the perfect COVID-19 addition, intentionally built for takeout. The bulk of the salads, sandwiches, and bowls—including the popular Savory Chicken Bowl—cost around $10–$15. To feed the whole family for $38, choose from pulled pork, shrimp, pulled chicken, or bratwurst with three sides. Insider tip: Keep an eye on Sammy's Bistro Express Instagram page, where there's often a weekday deal. Call ahead to place order.
Just across the parking lot in Kimball Junction is another fast and easy option: Vessel Kitchen. Choose from salads, tacos, bowls, and more, or build your own plate with proteins such as yellowfin tuna or roasted chicken breast and delicious veggie sides like roasted beets or cashew Caesar broccoli. Order online or use the Toast TakeOut app.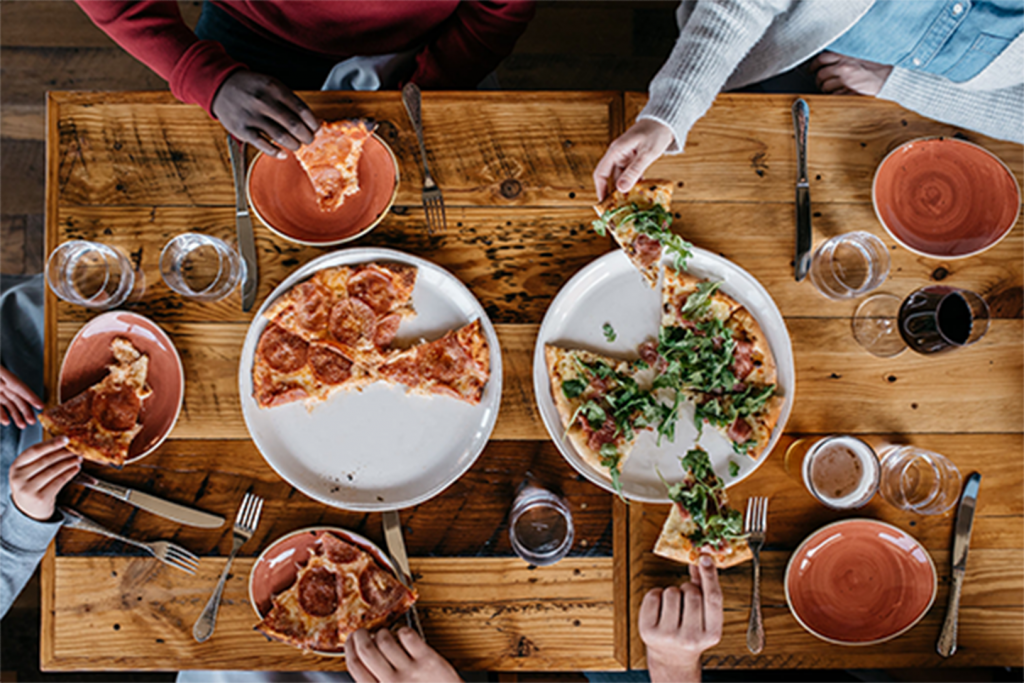 This locals' favorite Italian restaurant is part of the Park City Peaks Hotel, serving artisan pizzas (try The Spiro or The Speziato), hearty salads, and creative spins on pasta dishes, such as the Mushroom Carbonara Fettucine. New for 2021: Enjoy your curbside takeout in the heated tent by the skating rink just outside (reservations recommended). Call ahead to order.
With two distinct restaurants to choose from, Boneyard & Wine Dive offer "something for everyone" menus with items ranging from wings, onion rings, and burgers to ahi poke, steamed mussels, and wood-fired pizzas. The restaurants do offer outdoor dining options (a heated tent and rooftop igloos), but for takeout, call ahead to place your order.

Craving Mediterranean flavors? Head to this fast-casual spot to find both classic and modern takes on Middle Eastern dishes featuring falafel, shawarma, spiced rice, and hummus. Pitas and bowls cost around $12–$15 for individual orders. Nosh also offers family meals for two or four people with a protein and sides, such as the Buttermilk Chicken meal with hummus, yogurt and hot sauces, pita, plus two sides and dessert ($30 or $60, respectively). Order online.
For a more elevated evening in, considering ordering curbside or delivery from this Asian fusion restaurant in Old Town. Warm up with ramen or stir-fry noodles, or try some of Shabu's unique offerings such as Seared Sizzling Scallops—with sweet chili plum huckleberry sauce, crispy curried pancetta, and miso potato purée. Shabu recommends to call your order in between 4–5 p.m., specify what time you'd like to pick up your meal, park behind the restaurant on Swede Alley, and call when you arrive.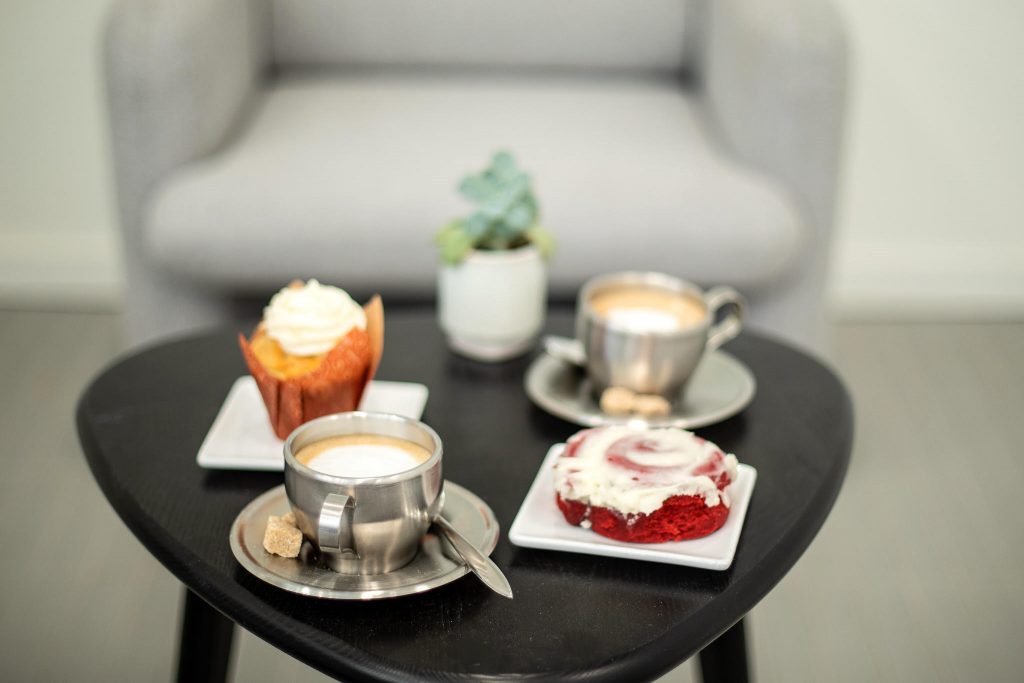 The recently-opened Salt Box is owned by the team from Riverhorse and Provisions, which both also offer takeout options. This grab-and-go spot is open for breakfast and lunch, featuring made-to-order options like the Saltbox Egg Sandwich (peppered bacon, honey baked ham, and scrambled eggs on ciabatta), pastries, and a refrigerator wall filled with sandwiches, salads, fresh juices, and more. Call ahead for made-to-order items.
Another solid grab-and-go option is Luna's, which keeps a rotating menu of gourmet prepared meals in its case to take and bake at home. You can also pre-order for pickup or delivery of its health-conscious meals such as the Thai curry bowl, lasagna with salad, or vegan chili. Stop in or reserve online in advance.
When what you're craving is a massive pizza, it's hard to go wrong with Maxwell's. Choose one of the specialty pies or make your own with both traditional and surprising ingredients like Italian sausage, artichoke hearts, banana peppers, and ricotta. Round out your meal with an oversized roasted chicken and kale salad. Call for curbside pickup or local delivery.
For even more ideas on where to order delivery and takeout meals around town, check out the Park City Area Restaurant Association's extensive list. For more information about traveling during the pandemic, read this article on Vacationing in Park City During COVID-19.
Bonus: Through the Shop in Utah grant, right now when you book lodging through Stay Park City, you'll receive up to a $100 gift card that can be used at local restaurants.