Pump up the tires, and get stoked for Midweek Mountain Bike Racing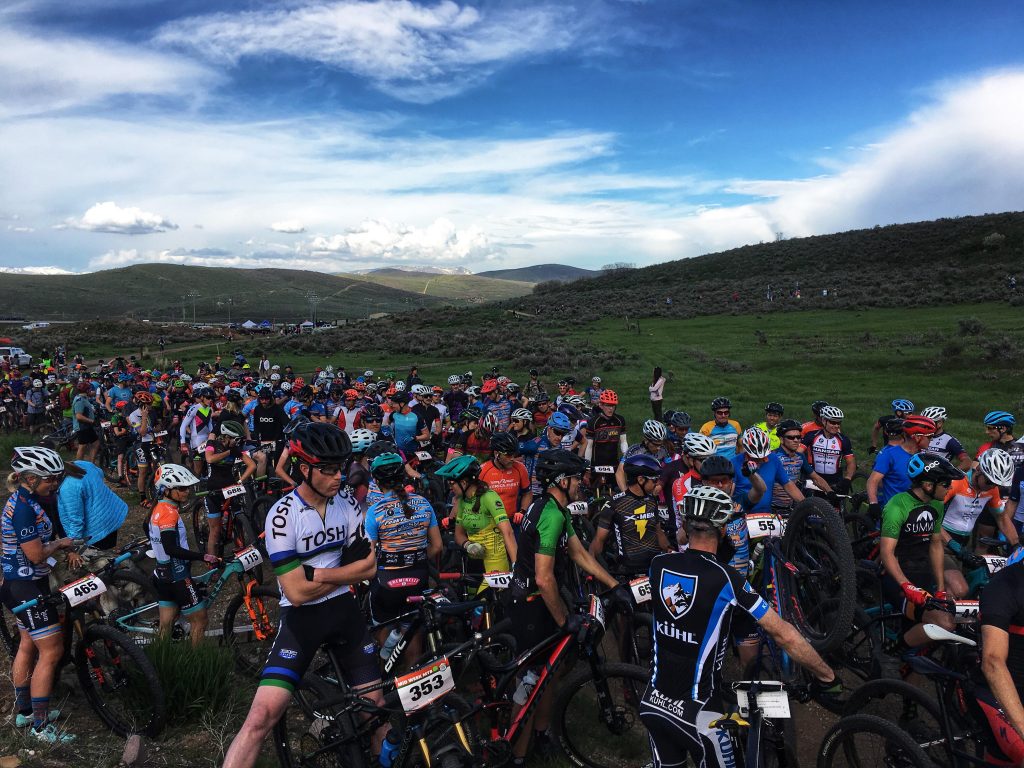 As the old saying goes, "people come to Park City for the winter, but stay for the summer." This certainly explains how some people turned a transient winter after college of ski bumming (just one, I promise) into a 4 season lifestyle of playing in the mountains we call home. As much as Park City locals all love our powder days in the winter months, there is something special about the time of year (mostly June through August and into September) when the daylight stretches the available outside time to the max, and where there is a wonder world of mountain bike trails to wander on, starting from just about anywhere in town, stretching up into the mountains, and flowing back down. These are the brown pow days of summer mountain biking.
The mountain bike bike scene here is really no secret, and the tourism promotion machine has been pumping money into messaging Park City as one of the premier mountain bike destinations in the world. Some might say the trails can get a little crowded. Sure we could complain when a pickup truck full of Yetis, front wheels draped over the Dakine pad on the tailgate blasts down the road doing twice the posted speed limit in hopes of getting the last parking spot at Trailside Bike Park. But let's look on the bright side of what summer means in Park City: Taco Tuesdays at local haunts like Sammy's Bistro or Windy Ridge, and Tuesday Night Midweek Mountain Bike Series races in Round Valley.
The Midweek Mountain Bike Race Series, held every summer in some form or another since 2007, moves around popular venues throughout the Wasatch Front and Back, but without a doubt, the races that most Parkites of the two-wheeled sort come out of the bushes for are the Round Valley editions. Ironically, the Midweek race series was started by a Parkite but they did not start in Park City, they started at Solitude. The first Round Valley race came a few years later.
Local mountain biker and race promoter Jay Burke knows the value of growing an event that starts at the grassroots level, and rises in popularity over time until it is getting reported on in the likes of Forbes magazine as a "bucket list" event. His Labor Day weekend (one of the best weekends to be in Park City, by the way) endurance mountain bike race is known for selling out in minutes when online registration opens the winter before.
We'll tackle more information about the beast of a race that is known as Park City Point To Point, or PCP2P, which is not for everybody. For now, let's focus our backyard races, which are for everybody, from kids to beginners to weekend warriors to high school racers to local professionals. Jay started the Midweeks when he was marketing director at Solitude ski resort as a way to offer a venue to the local mountain bikers looking for some intensity in the middle of the week, and as a way to get more people up into the clean mountain air that is Solitude in the summer. But Jay lived in Park City, and with the ever-expanding Round Valley trail system right out hs back door, he had a true lightbulb moment when he started scoping out potential routes for a Round Valley romp.
To better focus on his P2P race, Jay long ago handed of the Midweek series to another promoter, and it has since changed hands, but what hasn't changed is the posse of mountain bike enthusiasts numbered in the hundreds who show up at Quinn's Junction to race around familiar and beloved trails for a little under or over an hour, and all times in between.
So the next time the Midweek Series rolls to town, come on out and join the Backyard Bash. These races are for everyone, and it doesn't matter what you ride, there is a group to ride in, for beginner to pro. Wear lycra or not. Baggies and tank tops are just fine, and costumes are never completely out of the conversation. What you will find is the mountain bike version of a backyard, neighborhood gathering with a very welcoming, locals vibe.