Park City may be best known for its world-class winter attractions, but autumn is the true winner when it comes to outdoor adventure for those in the know. Utah's favorite mountain retreat is at its most vibrant and exciting when summer is drifting into memory and winter is still a distant dream. Before you put away the shorts and dig out the skis, try a few of these awesome autumn adventures.
Hiking and Biking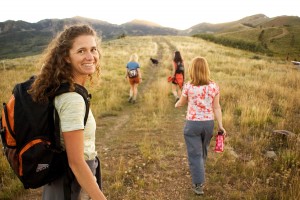 Green has given way to brilliant hues of yellow, orange and red. The hills and mountainsides burn with fall color, begging to be explored. Park City is home to hundreds of miles of trails, from hard-surfaced beginner walks to intense ascents into the heart of the mountains.
For a leisurely stroll or a trip with the family, check out Lost Prospector Trail. This nearly-eight mile loop takes in plenty of autumn foliage. The color just doesn't stop, and neither do the panoramic views of Park City. There won't be any huffing or puffing on this gentle circuit, just a spectacular journey through gorgeous country. Take to the trail on foot or on two wheels, both experiences offer a sublime trip.
For a more challenging hike, Mid Mountain Trail is the perfect choice. With a number of loops and more than 30 miles of trail, this hike has just about everything. Breathtaking aspen forests drape the slopes in the most incredible fall colors in the state. More than one resort connects to this trail network, so visitors have a variety of options for accessing this local favorite. The total elevation change on the trail can exceed 1,000 feet or more, reaching into rocky precipices at the top. With so much to do, the Mid Mountain Trail could easily make for multiple days of hiking or biking.
These trails don't cover even a fraction of the gorgeous terrain to be seen in Park City. Resorts offer lifts to some hard-to-reach destinations, and there are hidden gems around seemingly every corner. Keep exploring!
Zipping Around Town
With so many mountains on every side, it is no wonder that Park City is practically crawling with zip lines, including the world's steepest zip line at Utah Olympic Park. These high-speed experiences get right up into the trees for a face full of blazing color. Capture the season from an almost bird's eye view with a Ziptour of Park City or Sundance. No matter the zip line, these high-altitude thrills offer unbelievable vistas that can't be seen anywhere else.
Sliding Into the Season
Speaking of high speed, there is only one thing that can top a zip line ride through Park City's autumnal splendor: the Comet Bobsled at Utah Olympic Park. This extreme experience isn't for the faint of heart. The modified sled rips down the slopes in excess of 60 miles per hour. Make sure to drop by early in the season, as the bobsled only runs through the end of September. While there, the museum is a must-see detour for anyone interested in the 2002 Winter Games.
Driven to Explore
After all the exercise and excitement, a scenic drive is the perfect way to round out a Park City autumn adventure. The Alpine Loop Scenic Byway offers unparalleled views of Timpanogos, wreathed in warm tones and cool weather. Or head down Provo Canyon for a winding journey past Deer Creek Reservoir and Bridal Veil Falls. For a slightly longer voyage, try the Mirror Lake Scenic Byway to see double the magnificent color. Park City is smack dab in the middle of dozens of unforgettable day trips, just grab a route and get out there.
Rest and Recuperation
At the end of the day, even the most adventurous explorer needs a place to rest. Fortunately, Park City is home to a staggering assortment of lodges and resorts that make excellent fall retreats. Park City Mountain Resort, Canyons Resort, Deer Valley Resort, The Lodge at the Mountain Village, Silver King Hotel, Sundial Lodge and more offer any level of lodging, service and luxury a weary traveler could want. As an added bonus, fall is the off season for most Park City resorts, giving visitors a chance to enjoy a less crowded experience at a significant discount.
Park City is Utah's premier year-round travel destination with good reason. Give autumn adventure a chance, and you're sure to fall in love.