The Sundance Film Festival is nearly upon us. Sit at the feet of a veteran insider and Park City local and learn wisdom won over more than a decade of Festival experience.

Over 40,000 people from around the world are about to descend on a little mountain ski town in Utah. These movie maniacs, cinephiles, insiders, film nerds, and super fans are all coming for the largest independent film festival in the United States—The Sundance Film Festival in Park City, Utah. Sundance is one of the glitziest, most glamorous times of the year in Utah, but temperamental weather conditions, tricky ticketing and population overload can leave you out in the cold, literally.
As a former Sundance employee, volunteer, and patron for almost 15 years, I've picked up a trick or two navigating the Festival. If you're looking forward to some great people-watching, inspiring docs, celebrity-filled parties and epic skiing, then come play in Park City, January 21-31, but go armed with these tips in mind to really enjoy the experience that is Sundance. And wear layers—streets are cold, venues are hot.
1. Use the Free Shuttles
Driving a car in Park City during Sundance is worse than LA's I-405 during rush hour. Leave your car and use the shuttles, which are the easiest, cheapest way to get around. If you must drive, park either near Kimball Junction or pony up the cash to park in a Festival Park & Ride and utilize the shuttles from there.
Look for Transportation Volunteers in orange vests at the key shuttle stops. These guys can give advice about which shuttles are best, and they often know the answers to other Festival-related questions.
One last note on driving: there is only one road out of town so make sure you're not caught in a cluster of traffic once the ski resorts let out around 4:00-6:00 p.m.
2. Permission to Procrastinate
Sundance runs for 10 days and screens almost 200 films. But few fest-goers stay the entire duration, most hit the road after the first weekend. The second half of the Festival is far less crowded. Venues, films, and restaurants are easier to access, but with equally as much to experience.
3. Go to Salt Lake
Yes, the heart of the Festival is in Park City, but a 30-minute commute puts you in the capital city—gateway to phenomenal food, hotels, and a plethora entertainment options. More importantly, Salt Lake has six Festival theatres with many film premiers and Q&As, a Festival hub, and a box office all within minutes of one another. Chances of seeing a premier or a hard-to-get film are more in your reach in SLC.
4. What Happens in Park City
Party late and get up early? Yep, early mornings are a great time to see hard-to-get films. But speaking of partying—be careful. At almost 7,000 feet above sea level, Park City is cold and bone dry, which can cause issues while imbibing. Drink more water than you think you need and less alcohol than you want.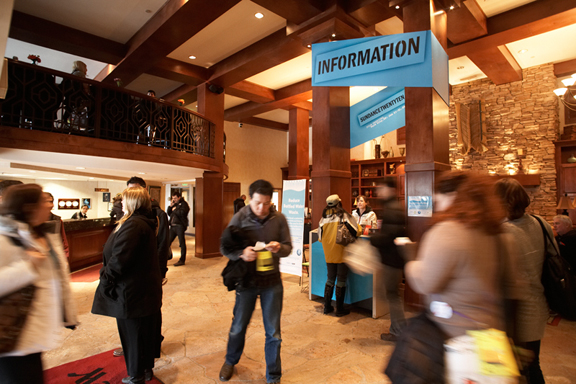 Yes, films are central to the Festival, but there is so much more than cinema. Music Café, New Frontier, Co-Op, lecture series; not to mention the amazing playground you're nestled in—skiing, snowboarding, and sledding in the Greatest Snow on Earth®.
Download the Festival app. You will use this to queue, waitlist, and check in, and it's very handy. Also, use your twitter account. You'll get access to special events, find out the latest news, and learn about happenings around the Festival. For 24/7 information, follow @sundancefestnow and, until then, follow @sundancefest.
7. Prevent Hunger
Park City jumps from a year-round population of 8,000 to over 50,000 during the Festival so getting into some restaurants feels impossible. Some Festival venues have small cafes but options are limited. Pack a protein bar and check out some of these treasured establishments to avoid the crowds and expense: El Chubasco, Wasatch Bagel & Grille, Good Karma, Silver Star, Café Rio, and Maxwells. Yelp and Open Table are widely used in Park City and Salt Lake.
Make sure to book your opening weekend no later than October. However, after opening weekend, rooms are still plentiful and come at much lower rates. We know this because Stay Park City powers the Sundance Film Festival lodging booking engine. Most everyone wants to stay either near Main Street or in the downtown area. Head over to our downtown Park City hotels and things to do page for additional insider advice or get useful tips on how to choose your Sundance hotel here.

9. Tickets
Many screenings appear sold out before the first curtain draws. But don't let that stop you—appearances are deceiving.
Day-of tickets: tickets are released day-of at the box office starting at 8:00 a.m. Show up early (people have camped out in the past), have cash, and don't try to do this over the phone or online—in person only.
Waitlist: use the app, which is just a few years old and allows you to waitlist for a film without arriving hours early to stand in the cold. Trust us on this one. When you use the app, you'll receive a waitlist number and information about your odds of entry. This is the BEST way to see films when you don't have a ticket.
Go to bigger venues like Eccles and Prospector Square, which have more seats than the tiny Egyptian or the Holiday Village. Or, again, go to Salt Lake!
10. Stay Flexible
The Festival can feel overwhelming and hard to traverse. However, if you're paying attention, there is a crazy kind of magic that happens: surprise tickets, flash mobs, dream-director sighting. So don't give up—talk to the volunteers, wander Main Street, pet some puppies. It all works out at Sundance.
11. Celeb Sighting
The thing you don't want to admit to wanting. Yes, Hollywood's most beautiful and bundled will be roaming the streets of Park City. So if a selfie with your favorite celeb is a must, hang out on Main Street, day or night, and this small town will make your big dreams come true.
Bonus Tip
Still having trouble piloting this party? Be prepared for next year.
Buy Early. Ticket packages go on sale months before, so don't wait until the festival to buy.
Volunteer! The Festival uses over 2,000 volunteers to run all the venues, shuttles, and logistics, and they are amazing. Plus, the perks are many, including free tickets and free screenings available just for volunteers.
Local or know one? Utah residents get first pick of ticket sales. Make more friends on the shuttles and maybe they'll help you out next year.